Functional Neurological Disorders (FND) and Ehlers Danlos syndrome (EDS)
Dominique Parain MD PhD

The questioning and clinical examination of patients with FND very often (about 3 out of 5 patients and even more frequently in fibromyalgia) makes it possible to highlight elements in favour of a constitutional fragility of connective tissue that we will later detail and which characterise the EDS "hypermobile" or, according to the International Classification of New York (2017), Hypermobile Spectrum Disorders (HSD for Hypermobile Spectrum Disorders). The proprioceptive sensors present in this weakened connective tissue dysfunction. These sensors constantly inform the brain about the state of the body. For this reason, the brain is poorly and insufficiently informed and stimulated. In return, this creates muscular tensions, pain and control disorders of many organs (motor control, functional colopathy, bladder disorders, vasomotricity, etc...). This lack of cerebral stimulation is also probably the cause of the fatigue that is present in all these patients and associated cognitive disorders (work memory, attention, difficulty in finding their words etc.) by a possible secondary celebral disconnection. With these patients, we conceive the neccessity to reactivate the peripheral proprioceptive sensors using peripheral magnetic stimulation and to act on the cerebral connectivity using large field transcranial brain magnetic stimulation.
The EDS is especially known by its rare forms, cutaneous (with a cutis laxa) and vascular (with its hemorrhagic risk aneurysmal). But there exists a very common form (maybe one million people in France), known as "hypermobile" (EDS + HSD) and many of the symptoms characterising this condition overlap with those of patients with FND.
This hypermobile EDS, as described in the website of Prof. Claude Hamonet, who was the first to amass several thousand patients, regroups very diverse clinical manifestations that would be related to connective tissue impairment and more specifically, collagen, which can be found in numerous organs. The most frequent manifestation is joint hyperlaxity (which can otherwise be seen in people, well and often disappears with age). It is the association along with other clinical signs that allows a diagnosis of hypermobile EDS relatively easily if thought about. In the first instance there exists an important fatigue but also diffused pain that resembles an array of fibromyalgia, sometimes sprains or dislocations. There is fragile skin and small vessels resulting in sometimes spontaneous bruising. These patients present some motor disorders with transient or prolonged paralysis or dystonia, proprioceptive disorders and physical schema (for example, the sign of the door, because patients often bump into the door when entering or leaving a room) which would be related to a malfunction of the proprioceptive sensors located in a faulty connective tissue. The brain would not receive the right proprioceptive information and in return would cause a control disorder, stiffness or dystonia, pain, intense fatigue, etc... There may be respiratory manifestations such as respiratory blocking realising a pseudo asthma related to stiffness of the muscles of the thoracic cage, Otolaryngology manifestations of the tinnitus type, hyperacousia, visual manifestations (myopia and visual fatigue), dysautonomic disorders (access of frilosity, abundant sweating, pseudo-Raynaud phenomenon), digestive disorders such as constipation and diarrhea. There are often significant cognitive impairments such as memory disorder, concentration, difficulty in finding words. A questionnaire can be used before the first consultation. There is no identified genetic anomaly even if there is an important genetic predisposition, often over several generations, with a strong female preponderance. The diagnosis is purely clinical based on a set of symptoms. A number of these symptoms are described in the HAS report as "associated" with fibromyalgia on this condition of 2010, but the link with the hypermobile EDS is not recognised.
I diagnosed Ehlers Danlos hypermobile syndrome, in the vast majority of patients who came to consult for a neurological functional disorder, especially in patients with paralysis or fibromyalgia, but also in patients with non-epileptic seizures. According to the authors of EDS hypermobile the symptoms are described as uniquely from peripheral origin, but there are several arguments for a brain dysfunction probably associated with connectivity disorder, the lack of cerebral stimulation of propeioceptive origin: the often brutal onset of deficits sensitivo-engines, their frequent unilateral distribution as in hemiplegia, cognitive disorders, the existence of discomfort that may resemble non-epileptic seizures (we often see the sequence of discomfort with loss of knowledge followed by prolonged hemiparesis). The onset or aggravation of symptoms by sometimes subtle physical or emotional stimuli are also arguments for brain involvement in the genesis of these disorders. The fragility of intracebral connectivity of these patients promotes this sensitivity to stimuli.
There is clearly an interaction between the central nervous system and peripheral proprioceptive sensors. Central stimulation improves in a large number of patients, at least transiently, certain cerebral symptoms such as cognitive impairment and visual fatigue, while peripheral stimulation, which would act by stimulating the receptors defective peripheral proprioceptives, often improves pain, sensitivi-motor disorders and respiration (by stimulating the thoracic respiratory muscles). It could be hypothesised that a somatic disorder with a type of genetic alteration of connective tissue would be a predisposing factor for functional neurological disorders. Peripheral magnetic stimulation (often by repeated flashes of 20 shocks at 25Hz) would stimulate the hypoactive proprioceptive sensors resulting in better neurological control in return and large field magnetic stimulation would act on the disconnections induced by the lack of proprioceptive cerebral stimulation. This type of treatment is complementary to other treatments usually offered (oxygen therapy, compression clothing, etc.). In all patients the effect of stimulation is transient and should be repeated regularly at varying intervals of time (often 2 months) and the quality of life of these patients is often vastly improved.
I will give below several examples of patients who have reacted well to having benefited from transcranial magnetic and peripheral stimulation and peripheral.

FND and EDS - Patient 1
Dominique Parain MD PhD

History
This 17-year-old girl has experienced multiple pains for about 5 years. After a handball match 2 years ago, she presented a paralysis in her left arm that was to become complicated 6 months after a dislocation of the shoulder for which surgery was performed. Several months later, the paralysis of the left arm regressed. However, five months ago, she will suddenly present a walking disorder after a prolonged hike, of the type valgus on her left knee (video 1).
Video 1
Clinical Description
She presents a hyperlaxity and easy subcutaneous hematomas which, coupled with motor disorders, permits us to make the diagnosis of a hyper-mobile EDS.
Magnetic Stimulation and Evolution
Four hours after Central and peripheral stimulation, in particular at the knee level, walking would normalise but with a bilateral relapse occurring 1 month later (video 2). A new stimulation session will result in immediate normalisation (video 3) without any relapse after 3 months.
Video 2
Video 3
Comments
It can be hypothesised that the stimulation of proprioceptive sensors, mainly in the internal ligaments of the knees, could control the situation.
FND and EDS - Patient 2
Dominique Parain MD PhD

History
A 14-year-old patient who has had many sprains, especially of the ankle and has hyperlaxity, back pains and easy subcutaneous hematomas. The diagnosis of EDS is certain. She presented non-epileptic seizures 6 months ago with severe fatigue and headaches. For 3 months, she has been experiencing episodes of paralysis with sensory disorders especially proprioceptives of one or both legs, for 8 to 10 days, at the rate of about 2 episodes per month. She has frequent subcutaneous hematomas, back pains and intermittent respiratory problems of the pseudo-asthma type. The mother is followed for rheumatoid arthritis with a heavy treatment. In fact, she has a history of fibromyalgia with many symptoms of SED that will be greatly improved by stimulation. The treatment of polyarthritis have been able to be terminated.
Clinical Description
I saw her for the first time concerning an episode of total sensory-motor deficit of the right leg, which appeared a few days before (video 4).
Video 4
Magnetic Stimulation and Evolution
Videos 5 and 6 show the importance of the proprioceptive disorder and how using peripheral magnetic stimulation with both high intensity and frequency, we begin to recover a little sensitivity. She will walk normally again the very next day. A month later, she is to experience a new, but identical, episode that will be recovered immediately using peripheral stimulation (videos 7, 8, 9, and 10). For the last six months, she has not experienced any sensory-motor deficits and she has vastly improved in terms of fatigue, pain and respiration.
Video 5
Video 6
Video 7
Video 8
Video 9
Video 10
Comments
The diagnosis of EDS is certain, clinically in this young patient, especially since the mother has the same affection. Some patients with sensitivo-motor deficit and EDS do not react to this type of magnetic stimulation, but a large majority will be improved at least transiently for at least a month, but very often longer. Diffused pain, respiratory genes are also improved by the stimulation.
FND and EDS - Patient 3
Dominique Parain MD PhD

History
This 36-year-old patient presented a delayed development, for example with walking (acquired at the age of 6 years) and of language. She was schooled in a specialised centre, but she had autonomy for the essential acts of life. At the age of 26, she was to quickly lose gradual walking and motor skills in General. She will need a wheelchair for moving around. All investigations remained normal. A large-field trans-cranial magnetic stimulation was used that would partially improve the situation for a few months. Three years later, she had a relapse that motivated a consultation.
Clinical Description
During the consultation, she showed a great discomfort in raising and extending her arms, as well as walking with canes, mainly because of a diffused stiffness (video 11). However, she shows ligamentous hyperlaxity, subcutaneous hematomas, and diffused pains permitting a diagnosis of EDS.
Video 11
Magnetic Stimulation and Evolution
Central and peripheral magnetic stimulation was used which resulted in an immediate partial improvement that increased after a second session fifteen days after (video 12).
Video 12
Comments
This patient presents a picture of EDS on delayed psychomotor development of unknown cause. Despite this, magnetic stimulation has had a significant effect on 2 occasions.
FND and EDS - Patient 4
Dominique Parain MD PhD

History
This patient has Fibromyalgia with many symptoms of EDS (video 13). She will benefit from a central and peripheral stimulation (video 14). With this patient there is a difficulty in opening the jaws due to stiffness of the masseter (video 15), equally improved by peripheral stimulation (video 16).
Video 13
Video 14
Video 15
Video 16
FND and EDS - Patient 5
Dominique Parain MD PhD

History
This 60-year-old patient has fibromyalgia with numerous signs of EDS resulting in significant hypermobility (images 17, 18, 19). She also presents a difficulty in opening her mouth (video 20) improved by stimulation (video 21).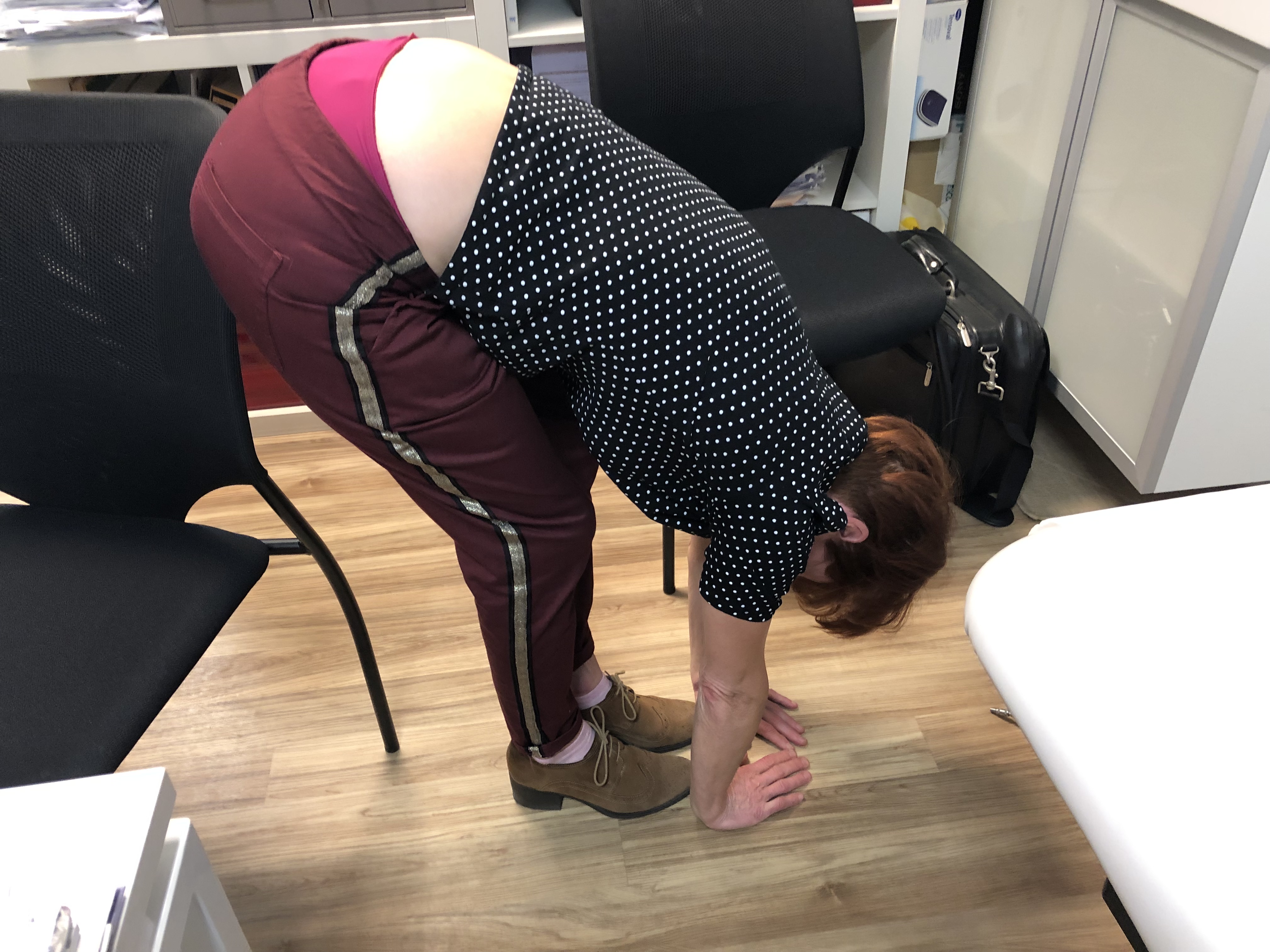 Image 17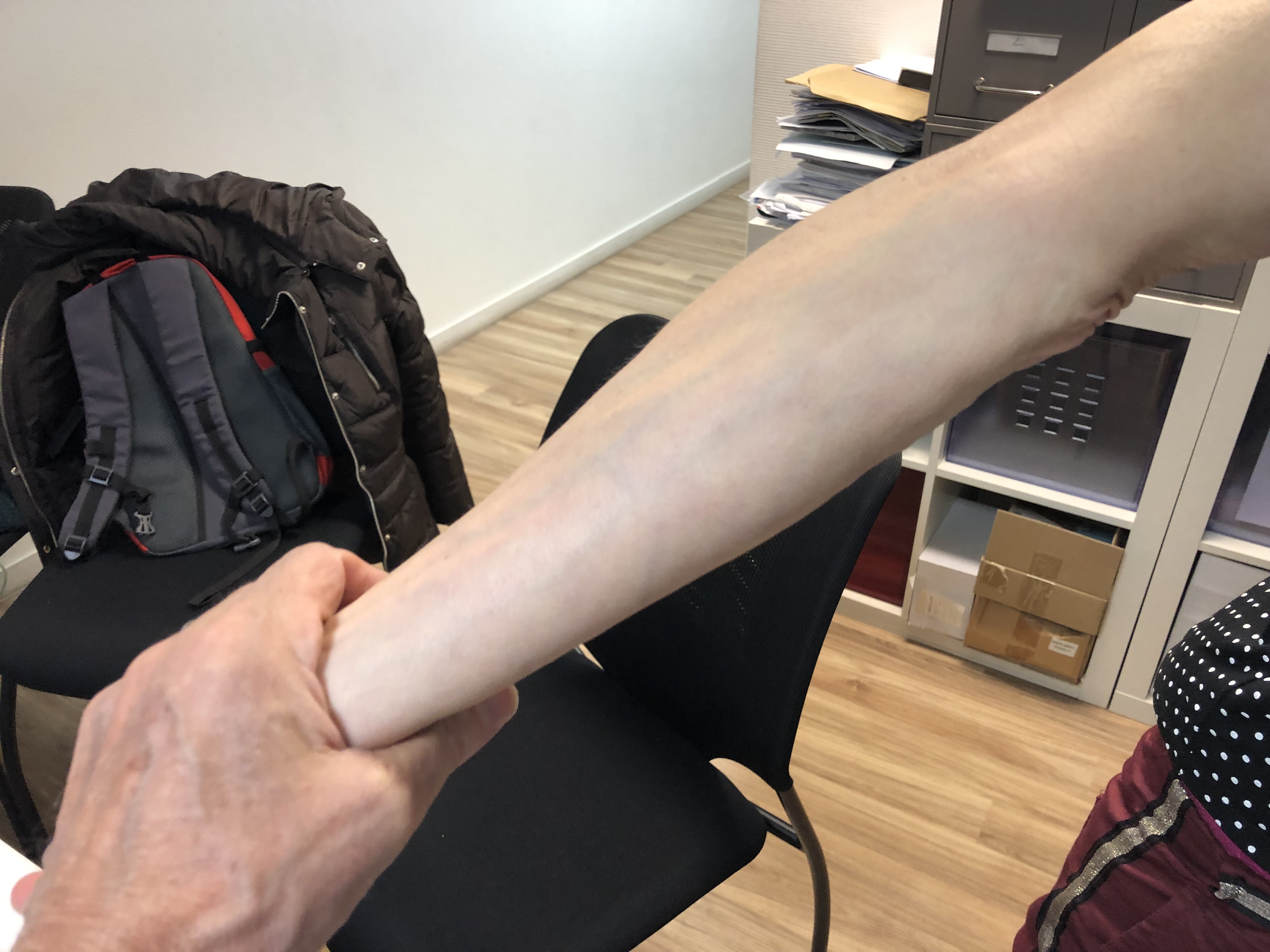 Image 18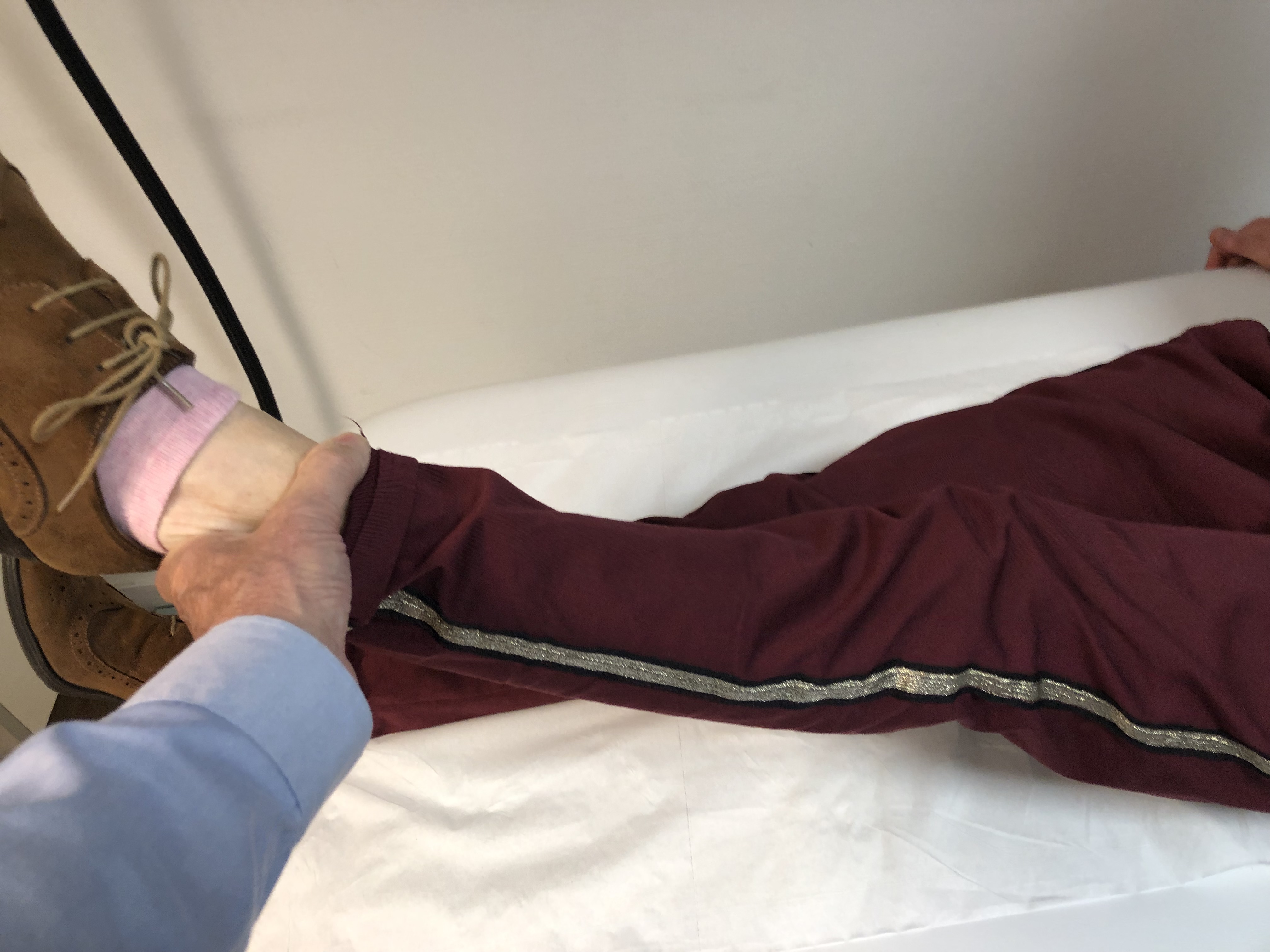 Image 19
Video 20
Video 21
FND and EDS - Patient 6
Dominique Parain MD PhD

History
Patient with fibromyalgia as part of an EDS also having difficulty opening her mouth (video 22) improved by stimulation (video 23).
Video 22
Video 23
Fibromyalgia in the case of an EDS - Patient 7
Dominique Parain MD PhD

History
This 44-year-old patient, who used to do a lot of athletics and dance with soupleness, has for 2 years presented symptoms of fibromyalgia, with the absence of any obvious triggering factor. Since then she has progressively shown signs of stiffness in the hands, shoulders, neck, hips and back, prooving very disabling. Before the stimulation sessions began, her average daily pain threshold was about 7/10. Since, she feels tired, with a functional colopathie and many symptoms in favour of an EDS.
Clinical Description
We can see she has great difficulty in raising her arms in the air, turning her neck. She cannot lean forwards. The squatting position is almost impossible (see video 1).
Video 1
Magnetic Stimulation and Evolution
A classical large Field transcranial stimulation was carried out in a classic way and a peripheral stimulation at 4 Hz on both the painful regions and on the stiff areas. After the stimulation (see video 2) there is a disappearance of the stiffness. She can raise her arms very easily. She turns her neck without any difficulty. She can bend forwards until she touches the ground with her hands and the squatting position is no longer a problem for her. After the stimulation, she was to experience a state of fatigue that worsened over a few hours, but improved the following day. In the days that followed, her pain threshold reduced significantly to around 3/10 as a daily average.
Video 2
Comments
This patient therefore presents a fibromyalgia with a particularly intense stiffness that lasts throughout the day. Often, with a fibromyalgia, any stiffness usually only exists in the morning. She is very limited in all her daily activities because of this stiffness that is associated with pain. Peripheral stimulation resulted in an immediate and very important improvement of any stiffness. She indicated a decrease in pain during the following days and was, for several weeks, less tired. Constipation decreased. At the moment it is necessary to repeat the stimulation sessions every month because the symptoms gradually reappear after the third week following the stimulation session.
Fibromyalgia in the case of an EDS - Patient 8
Dominique Parain MD PhD

History
This patient presents a diffused fibromyalgia over four years. She feels like she has a carcass around her that make any movement steep and very difficult. This stiffness is especially present in the morning. She struggles to get up from sitting in a chair and crouching (see Video 1). The hands are very stiff and she often drops objects. There is a predominant tremor on the right hand (see video 2). She has trouble writing (see video 3). There are also many clinical and anamnestic elements in favor of an EDS.
Video 1
Video 2
Video 3
Mode of Stimulation
A central stimulation was carried out at 1 Hz at the engine threshold (see video 4). Then we undertook peripheral stimulations on the painful areas, especially the hips (see video 5), the thighs, the knees, the shoulders and shoulder blades, the lumbar region and the neck. In particular, we stimulated the hands (see video 6).
Video 4
Video 5
Video 6
Results
After the different types of stimulation, we observe the patient is much more flexible. She can easily rise from a chair and crouch repeatedly. She writes much more easily. She opens and closes her hands more easily. The trembling of the right hand has disappeared (see video 7).
Video 7
Comments
It is frequently observed that, with fibromyalgia patients, any stiffness diffuses as well as pain. This stiffness leads to awkwardness. Central and peripheral stimulation can immediately have a significant effect. The effect of stimulation often has a limited duration and I have to stimulate this patient every month and a half to maintain a satisfactory clinical situation. After each stimulation session, the immediate improvement is identical.
Fibromyalgia in the case of an EDS - Patient 9
Dominique Parain MD PhD

History
A patient aged 35 years with fibromyalgia over the past 3 years, which occurred gradually following childbirth.
Clinical Description
She presents diffused pain with a daily average pain threshold of 7/10. She has trouble walking to do the shopping, to take care of her child, and to undertake everyday life routine tasks. There is a very large stiffness in the hands, shoulders and the neck (see video 1). Two months before this consultation, she made a severe left sensitive motor deficit, almost completely regressive, but a left hypoesthesia and a more pronounced motor disorder at the level of the leg and foot persist. She has trouble moving her toes and in recognising the position of her big toe (see videos 2 and 3). This patient presents a clinical picture characteristic of a hypermobile EDS.
Video 1
Video 2
Video 3
Magnetic Stimulation and Evolution
After large field central magnetic stimulation, there is no significant immediate improvement of the stiffness in the hands, neck and the left foot. After peripheral stimulation of these different regions, at 3Hz at the pain threshold, in a single session, immediate improvement on the stiffness was very significant. After more prolonged stimulation on the left foot, the sensitivity and the motricity of the foot will normalise itself (see video 4).
Video 4
Comments
It is a classic observation, in patients with fibromyalgia, to observe a morning stiffness, especially in the hands, knees and hips. Sometimes this stiffness can be permanent and disabling, with difficulty in closing the hands (where the fingers can be swollen), lifting the arms and turning the neck, as with this patient. Almost constantly, peripheral stimulation at 20Hz, done at the pain threshold on these regions, improves the situation. Two months before this consultation, this patient made a severe left sensitive motor deficit, obviously functional (imagery was normal) with persistence of some symptoms. Peripheral magnetic stimulation allowed full recovery of the deficiency (which confirms the diagnosis of a functional neurological disorder). It will be necessary to repeat regularly every 2 or 3 months stimulation sessions to improve the fibromyalgia.
Multiple Functional Symptoms in the case of an EDS - Patient 10
Dominique Parain MD PhD

History
This 62 year old patient presented a brutal onset of paralysis on her left side, while she was quietly doing sewing that is on the preferred lobby. It should be noted that for the last two months she was preoccupied and that she was not sleeping well. As a result she was sent to hospital where, given the normality of the examinations, the diagnosis of a functional paralysis was given. Her first session of large field transcranial magnetic stimulation, given at the University Hospital Centre in Rouen, was very efficient. I saw her two months later for a relapse of the left hemiparesis and the appearance of an articulation difficulty (see videos 1 and 3). She also presents multiple symptoms of hypermobile EDS, including hyperlaxity, cold extremities and frequent subcutaneous bruising.
Video 1
Video 3
Magnetic Stimulation and Evolution
The large field transcranial magnetic stimulation alone again improved the left paralysis completely (see video 2).
Peripheral stimulation at 3Hz, using the small round coil on the masseters, completely improved her language articulation disorders (see video 4).
Video 2
Video 4
Comments
This patient therefore presented two types of functional neurological disorders, one deficit of the type left hemiparesis and the other positive of the type excessive contraction of masseter causing dysphonia. There was no obvious triggering factor. Magnetic stimulation was able to improve both types of symptoms. I currently see this patient every three months because, after this delay, there is a tendency towards the recurrence of her symptoms.
Motor and/or Sensory Deficit in the case of an EDS - Patient 11
Dominique Parain MD PhD

History
This 16-year-old girl has for 6 months presented several onsets of paralysis of the left foot with major sensitivity disorder. During the first onset, the paralysis occurred during her sleep, during the night preceding her return school. She did not describe any particular anxiety at school and the psychiatric records came back normal. She would make a dozen onsets of the same type, under the same circumstances, spontaneously resolved within a fortnight.
Clinical Description
I saw this patient on the third day of an onset. She drags her foot like a ball. She does not know exactly where her foot is (see video 1). On clinical examination there was a major deficiency in the strength of the leg and foot muscles. The tactile sensitivity is kept moderately up to the knee but there is a total abolition of algesic sensitivity and especially proprioceptive (it is unable to know if her big toe is up or down) (see Video 2). She also presents several symptoms of hypermobile EDS with significant hyperlaxity.
Video 1
Video 2
Magnetic Stimulation and evolution
Despite transcranial magnetic stimulation, there was no improvement. Only high-intensity and high-frequency peripheral stimulation (100% in intensity and 8 Hz in frequency) can be used to restore proprioceptive sensitivity (see video 3). Once the proprioceptive sensation is restored, the stimulations on the corresponding muscles will restore the motor function (see videos 3 and 4). The patient will be able to walk again and without a cane (see video 5) and she will go on to make a complete recovery. She will have 2 further relapses, controlled immediately by stimulation, resulting in the complete disappearance of her symptoms.
Video 3
Video 4
Video 5
Comments
I was able to observe several teenagers experiencing paralysis phenomena on their return from holidays without really identifying any school anxiety. The triggering factor is therefore moderate, reflecting a real fragility of brain connectivity. Once the process has been initiated, it can be repeated. This observation shows very clearly the power of peripheral magnetic stimulation to reactivate certain brain functions. Here, this type of stimulation is most effective in restoring sensitivity by creating indepth currents that will stimulate deep sensory nets and reactivate the sensitivity circuits at a central level. The origin of the disorder is, in this case, obviously of the dissociative type. This method of treatment also teaches us that one must first seek to restore the sensitivity, especially proprioceptive, before being able to improve the motor, and this goes for all patients who have major disorders of sensitivity. Only stimulation of the anesthetised area is effective, in contrast to the stimulation of the corresponding muscles. The paralyses are not going to reoffend but she will subsequently experience a few non-epileptic seizures.
Déficit Moteur et/ou Sensitif in the case of an EDS - Patient 12
Dominique Parain MD PhD

History
This patient presented two months ago a multiple fracture of the right tibia that required surgical management. During the rehabilitation, there was evidence of a sensory deficit in the right leg associated with a deficit of muscle strength of the limb root (abductors, adductors, glutes and psoas), unexplained (normal electromyogram) and preventing the rehabilitation Motor.
Clinical Description
During the consultation, she walked with canes, because any support on the right foot was forbidden due to the fracture. Any movement of the limb root, abduction, adduction, antepulsion, retropulsion was impossible and only through a movement of the pelvis (see video 1). Several symptoms are noted in this patient to diagnose EDS.
Vidéo 1
Magnetic Stimulation and evolution
After the session of large field and peripheral magnetic stimulation, there was a complete sensitivo-motor recovery. The patient can again normally mobilise the root of the lower right limb (see video 2). There will be no recurrence.
Vidéo 2
Comments
This story is characteristic of functional paralysis after trauma. The deficit appears in or around the same territory as the trauma. Therefore, it is a kind of reflex paralysis, the trauma causing a connectivity disorder in the corresponding brain networks, with in return a neurological deficit around the traumatised body area. This story is, moreover, almost identical point by point to that described by Oliver SACKS, a great American neurologist who, in his book "on one leg", told a similar personal experience. Clearly it evoked an intracereobral neural dysfunction causing the disorder and not a purely psychological phenomenon.